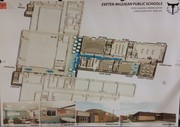 Building Project
The new east academic wing and the west entries building project at the Exeter site was completed the summer of 2016 and was used for the first time the 2016-17 school year.
Our next project is the remodel of the locker rooms at the Exeter site. Deconstruction has started and the goal is for the project to be completed by August 1st. Stay tuned as we update the progress!
Thank you to everyone for their support of this project as we prepare our facility for the future and future Timberwolves!
Beginning School Information
Below is some beginning school information.
ALL FORMS ARE AVAILABLE AT THE FOLLOWING LINK AND MAY BE SUBMITTED ELECTRONICALLY: CLICK HERE